Paintless Dent Repair Etobicoke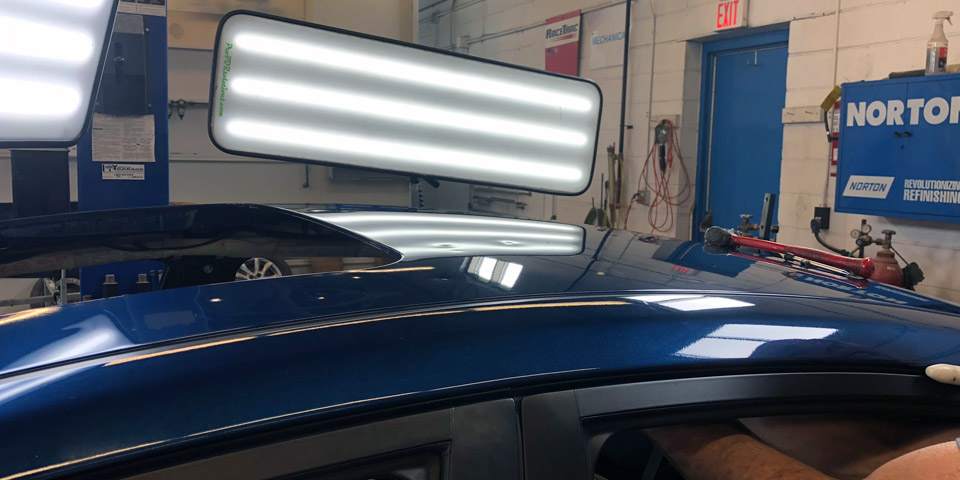 Paintless Dent Repair Etobicoke
A vehicle is open to sustaining damages through its lifetime. In some cases, merely parking your car outside can cost you a severely dented hood and rare of the car. At roadrunner, we are quite familiar with the ups and downs of a car experience and are well versed in customizing dent repair in Etobicoke for your car accordingly. Whether you own an SUV, a truck, or a regular two-door we are the people to call anytime your car has been in a collision, hit by hail, or a car parked next to your opened door into yours.
The technology we employ for dent removal in Etobicoke is quite seamless and helps restore the vehicle to its original condition.
How has denting work improved?
Being a part of the industry for over a decade we have constantly improved our procedures and made them leaner over time. While there still may be a need for sanding, buffing, and applying filters, the need for paintwork polishes and coatings has reduced significantly. The methods we employ are efficient, cost-effective, and much quicker than what was done until a few years ago.
Dent restoration work
While dents don't impact how your car performs on the road, they are certainly an eye-sore and with time they turn in corrosions and dips that are filled with dust, dirt, chipped paintwork, and more reducing the life of the vehicle drastically.
Unattended dents can also lead to fellow motorists expecting you to be a terrible driver even if it isn't your fault. We understand how dents impact you and your vehicle. Thus, we have created foolproof paintless dent removal in Etobicoke to offer a quick and cost-effective solution.
To ensure that you are a target of unfavorable stares and that your car does not deteriorate at a heightened speed, you must opt for a restoration service as soon as your car experiences a dent.
There aren't any delays involved
Like most car services the delay of an hour or two is normal. But extensive delays that last more than a day especially for Paintless dent repair in Etobicoke aren't acceptable. At roadrunner, we have optimized our process to reduce delays significantly and to get the job done as soon as possible.
We make sure that your vehicle is all fixed and ready to use within a few hours especially for the paintless dent repairs. in case your car needs the longer version we may take up a few days but will inform you beforehand.
Why we recommend Paintless dent repair in Etobicoke
While regular denting work addresses major car deformations, we strongly recommend opting for paint-less options each time you can. There are several benefits to this service• Cost-effective
Cost-effective
Reduces waste, use of toxic chemicals and processes
Preserves the original paintwork of the vehicle
Time-efficient
Insurance friendly
Completed by experts at our facility.
You can get in touch with s today to get an overview of the services you may need. We guarantee proper restoration without wasting your time.